Home
› Bridal Shower MenuHow important is a great bridal shower menu? Well, for a lot of women, it's not a wedding without a bridal shower. And I say that it's not a bridal shower without awesome bridal shower food.
A bridal shower is all about having fun and celebrating — after all, getting married is one of the biggest moments of anyone's life, and deserves to be celebrated!
So what makes a good bridal shower? Well, it can be kind of tricky.
A lot of the time, a bridal shower includes women from different circles of friends and different generations. It's a mix of friends and family who don't necessarily agree on what an appropriate party is.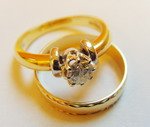 One thing that can help bring all these girls together is a few good bridal shower games. They're a ton of fun, and they help everyone get to know each other and the bride just a little bit better. Diva Girls Parties and Stuff has an awesome selection of fun bridal shower games to make your bridal shower perfect.
Of course, games aren't the only thing that'll get the bridal shower guests to bond. Food is one of the best ways to bring people together, and a great bridal shower menu can make all the difference.
There are so many great options out there for bridal shower food. But if you want the best party, there are a few little things to consider when you're picking your bridal shower menu, to make sure that the food is the best possible for the party you have planned.
So read on: you'll find out all about the three Ts of planning a bridal shower brunch: the theme, the tastes, and the type of food. And, of course, you'll find a few great ideas and recipes to add to your bridal shower menu.
Is There A Theme?
There are plenty of ways of making a bridal shower awesome and special, but one of the ones I want to talk about is themes. Because the theme you pick can affect the bridal shower menu!
There are all kinds of themes. They can be a bit elaborate, like a Hawaiian luau-style party, but they can also be super simple — a color scheme is so easy, but it's a theme, too.
If you're looking for some great theme ideas, check out Wedding Flowers And Receptions Ideas' page on bridal shower themes.
And if you do decide on a theme, keep in mind that having a bridal shower menu to match the theme will make the party outstanding!
Here are a few tips:
If you're going for a color theme, try and pick foods that match that color.

If you were going for sunny colors, you could have a veggie tray that included yellow, orange and red bell peppers.
For some colors, it might be a bit harder to find foods that match, like blue. But there's always a way. A fruit salad with some blueberries in it will match the theme. Or sugar cookies can have any color icing on them.

You don't have to match all the food to the theme. But a few dishes here and there will really stand out.
No matter what the theme, icing and frosting are your friend! If you bake a cake, or cupcakes, you can have them match any theme by just making up a few batches of colored frosting.
A lot of themes almost have a built-in menu that go along with them.

If you're having a luau, you can include some tropical fruits, like pineapple and papaya. Or decorate an ordinary sandwich platter with a few bright, tropical flowers.
French breads like baguette would be great for a Parisian themed bridal shower, along with some good cheeses — and a few good wines!

A lot of times, you don't really have to make a whole new bridal shower menu to match your theme — but maybe just put a little twist on each dish to make it fit.
Peoples' Tastes Are Important
One of the most important things to consider when you're planning a bridal shower menu is definitely peoples' tastes. There's no point making a menu that no one will like.
Here are a few things to keep in mind when you're thinking about what bridal shower food to pick:
If there's one person who needs to have a great time at a bridal shower, it's the bride! And it's important that she like the food, too… Unless, of course, you think she'll be too nervous to eat!

Consider the bride's tastes first – if you know she can't stand fish, an "under the sea" theme with lots of seafood may not be the best plan.
If you're having a mixed party and the groom is attending, make sure he likes the food, too!

Try to cater to the crowd. Sometimes it can be tough, especially if you don't really know all the people who'll be attending very well. But if you know that most of the guests love deviled eggs, then that's a great choice for your bridal shower menu.
Try to have a variety of foods available, especially if you're going with finger food. It's not too hard to have a few different types of sandwiches or desserts. That way, odds are that everyone will find a little something they like.
If you know that some of the guests have serious allergies, it may be something you want to consider when you're making your food choices.

Sometimes, it's just not possible to cater to everyone, especially if it's going to be a very big bridal shower. But if you know someone is allergic to onions, it's not a bad idea to have a few onion free dishes.
A bridal shower is a great opportunity to make fancy dishes and complicated or exotic appetizers… it can add a lot of class to the party.
But don't forget that peoples' tastes come first. If you think that the bride and the guests would prefer a simple meal, then that's the perfect bridal shower menu.
Types Of Menus
When you're planning a bridal shower menu, one of the first choices you have to make is the type of food you're going to serve: finger food, or a meal.
Finger Food
I think that finger food is one of the best choices for bridal shower food. And there are lots of good reasons!
It's easy to have more options with finger food. It's not always easy to make two or three main courses for a regular sit-down meal, but having a few tasty, filling options like mini quiches, deviled eggs, meatballs, or sushi is no problem at all.
No matter what setting you're in, finger food is easy to eat. If people aren't going to be sitting or won't be sitting at a table, you don't want to serve something that'll be tough to manage.
Finger food is great because you can enjoy it for the whole duration of the party. It's out, and people can go up and get a little plate whenever it suits them, and jump right back into the fun and games.
I say finger food, but you can really include anything that's easy to eat with just a plate and a fork, like potato salad or cake. As long as it's comfortable to eat while standing, or without a table!
Finger food is actually really versatile. You can go either super casual or super elegant or anything in between.
A Meal
Another option is to have a proper, sit-down dinner, with entrees, main courses, salad, and dessert, where everyone sits down together and shares the moment.
I don't think anything really compares to how elegant a beautifully set table can be. Silverware, specially folded napkins, pretty glasses, it all just gives a really refined look.
If you want something formal and elegant, a sit-down dinner is the way to go.
When you plan on having everyone sitting down at a table, you suddenly have a whole lot more meal options — steak, a delicately braised fish, sauteed chicken breast — because you have the right setting for it.
Notes
No matter which type of food you go with, just remember:
The bride (and groom, if he'll be there) should like the type of meal.
All the guests should be comfortable eating.
Be sure that you have a bit of everything — vegetables, main course (meat, fish, tofu, whatever), snacks and desserts. Everyone should feel like they've had a good meal, even if you're serving finger foods.
Be sure to have enough food for everyone! You don't want the guests going hungry.
Don't forget drinks!

It's a good idea to have some non-alcoholic options like coffee, tea, soda, juice or iced tea.
Some alcoholic drinks can be fun too. Wine is always good, and punch or sangria can make a very pretty addition to any table.
Menu Ideas And Recipes
A great bridal shower menu has a little bit of everything: appetizers, vegetables and salads, a main course, desserts, and of course, drinks! It doesn't matter if you're serving finger food or a sit-down meal, you need some of everything if you want your guests to feel satisfied.
Here are a few ideas for some great bridal shower food!
Appetizers
Chips and dip may not sound like the classiest food, but that's not necessarily true. There are plenty of tasty, interesting options out there. And besides, they taste great!

Hummus is a tasty chick pea puree that's great with vegetables, but it's especially good with pita bread or pita chips. And with this easy hummus recipe, you can make a whole bunch in no time at all.
Pita chips are a great alternative to regular old potato or corn chips. And they're healthier, too! This baked pita chips recipe is great choice to go with dip.
Guacamole is another dip that's easy to make, and it's so delicious and good for you. It goes great with tortilla chips or with fresh cut vegetables. Find out how to make it in this article on making guacamole dip.
Salsa

Vegetable Tray and Dip

French Onion Dip
Ranch Dip
Vegetables And Salads
Pasta Salad
Potato salad is just as good for a casual buffet as it is for a fancier one. That makes it perfect for any bridal shower menu. And you'll want the best potato salad recipe for your bridal shower!
Tomato-Mozzarella kebabs
Main Courses
A cheese fondue works great for either a sit-down dinner or a buffet. Just keep the fondue warm, and have some vegetables and bread available for dipping! I prefer a milder fondue, and my favorite is this Cheddar cheese fondue recipe.
Deviled Eggs
Meatballs
Mini-quiches
Sandwiches
Sushi
Desserts
Brownies
It's not a bridal shower without cake!

Presentation is super important for a bridal shower. After all, it's a special day, and you want a special cake to mark the occasion. These bridal shower cake ideas will help you make the perfect cake!
Once you've picked a bridal shower cake design, you need a cake recipe! Well, nothing beats chocolate cake, and nothing beats the best chocolate cake recipe!
And of course, no cake is complete without a bit of frosting. This chocolate frosting recipe will help you put on the delicious finishing touches.

Cupcakes
Chocolate-coated strawberries are a sweet, delicious treat. They're perfect for a bridal shower menu! And the first thing you need to know to make them is how to temper chocolate to get a nice, hard, shiny chocolate coating. Once you have that down, you can make your own chocolate strawberries.
Chocolate Fondue
Sugar cookies are a great idea for a bridal shower menu because you can decorate them any way you like. You can have food that fits perfectly with your party. Panty shaped cookies can be a huge hit!

Try out my favorite of all easy sugar cookie recipes. It's a cookie cutter recipe, so you can shape them any way you like!
Once you have sugar cookies that are just the right shape, it's time to decorate them! This sugar cookie icing recipe will let you decorate your cookies anyway you like – and they'll come out looking like a pro made them.

Fruit Salad
Drinks
I hope this helps you pick out a great bridal shower menu. And don't forget to have a ton of fun!