Home
› Soup RecipesHomemade Soup Recipes
Stocks
–
Meat & Veggie Soups
–
Puréed Soups
–
Cream Soups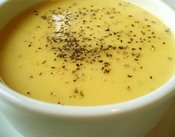 What could be better than a hot bowl of soup when it's cold out? It's comforting, delicious, and warms you up from the inside out. And if you're feeling a bit under the weather, well, soup just makes you feel better.
But you don't have to save soup for a hot meal on a cold day. Soup makes a fantastic appetizer, and there are even a whole bunch of delicious cold soups you can make on a hot summer day!
In this section of Enjoy How To Cook, you'll find a series of great soup recipes. And since a soup is only as good as the stock you start with, this is where you'll find recipes for homemade stock.
I've split up these easy soup recipes according to soup type. You'll find:
A recipe is always great, but sometimes general guidelines are better in the long run. Check out our articles on how to make soup to find out more!
Enjoy!
Stocks
Meat and Vegetable Soups
Pureed Soups
Cream Soups