Home
› Cooking ChickenHow to cook chicken
Preparation Methods
–
Cooking Methods
–
Cooking By Cut
Chicken has always been one of my favorite foods.
No matter what the time of year, there's a great way to cook chicken. Summer? Chicken on the barbecue, skewered, marinated in teriyaki sauce. And that first roast chicken in the fall – with mashed potatoes, peas, and carrots – always feels like an extra special treat.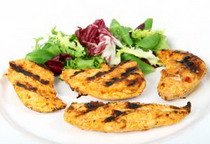 But… you need to know how to cook chicken if you want it to be delicious.
Knowledge… It's the difference between ending up with burnt, dry chicken, and ending up with a perfectly seared, juicy chicken breast.
And hey! It's a lot more fun to spend time in the kitchen when you know you'll end up with a fantastic meal.
There's a lot to know about cooking chicken. How to prepare baked chicken breasts, barbecued chicken wings, whole roasted chicken. How to fry chicken, how to braise it, how to grill it. There are endless possibilities.
Not sure what the best way to cook a particular piece of chicken is? Go ahead and keep reading this page. You'll find links to a series of articles that I've written on cooking chicken. Just pick one of the three categories:
Just looking for quick and easy chicken recipes? Click here to visit our chicken recipe collection.
I hope these articles help you learn how to cook chicken. It'll make your life easier and your kitchen life a bit more delicious and a bit more fun.
Preparation Methods
There's more to cooking chicken than the actual cooking part. You can make your meal better before you ever turn on a burner.
In this section, I'll go over various preparation techniques – things you do to your chicken before cooking it. A little bit of effort goes a long way!
If you're going to roast a whole chicken, it's worth learning how to truss chicken.
Brining is a technique that you use before cooking the chicken. It really improves the taste and texture of your chicken. Check out our article on brining chicken to find out how to do it!
Planning on making delicious fried chicken or oven-fried chicken? Well, the first step is to bread the chicken. Find out how in our two part article on breading chicken:
Cooking Methods
After going through all the preparation steps, it's time to learn how to cook chicken!
In this section, I'll go over various cooking methods for cooking chicken, from frying to roasting. Just click on the links to reach any article that catches your eye – or your taste buds!
Fried Chicken
If you're looking for juicy, delicious fried chicken, you're in the right place. We even have an article on making a healthier oven fried chicken!
Before frying chicken, you have to know how to bread it. Find out how to do it in our two part chicken breading guide:
Once you know how to bread it, you can fry it! Learn how in this two part article:
Looking for a healthier alternative to fried chicken? Find out how to make oven fried chicken.
Roasted Chicken
One of my favorite meals is a whole roasted chicken. There are lots of great ways to do it. Check out our article on roasting chicken – it'll tell you everything you need to know about it from different cooking methods to all kinds of ways to season the chicken.
Pan Fried Chicken
Pan frying is a super versatile way of cooking chicken. It's just one method, but you can literally make dozens of unique, delicious recipes with it. In this article on making pan fried chicken, I'll show you how to make perfect golden chicken, with an awesome sauce to go with it.
How To Cook Chicken By Cut
Different cuts of chicken need to be cooked differently. In this section, I'll go over how to cook chicken by cut – for each cut, I'll talk about the best ways to turn it into an awesome meal!
Whole Chicken
One of the best way to cook a whole chicken is to roast it. Check out our article on roasting chicken to find out lots of ways to season and cook a whole chicken.
Chicken Breasts
A great way to cook boneless, skinless chicken breasts is to pan fry them. Find out how to get a beautiful golden crust and a tasty pan sauce in this article on making pan fried chicken.
Using Cooked Chicken
Chicken leftovers are a great thing. And one of my favorite ways to use them is to make a delicious, easy chicken pot pie.
---
Once you've got the cooking techniques down (or even before!), check our easy chicken recipes.