Home
› Dessert RecipesEasy Dessert Recipes:
Cookies – Cakes – Squares & Bars – Crisps & Cobblers –
Candies – Frosting & Icing – Pies
Desserts have a bit of a special place in the food hierarchy. On the one hand, desserts are sweet, delicious, and everyone loves them.
But they're not always healthy, and so they're sometimes looked down on as a bad choice.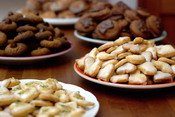 But dessert is an important part of a meal. It's not just about having something sweet or decadent. Easy dessert recipes help to put a closing note on the meal, so that you feel that the meal is done. It's like the period at the end of the sentence, or the credits at the end of a movie.
So how do you enjoy dessert without overdoing it? The first way is to eat dessert in moderation. One cookie does just as good a job of bringing the meal to a close as three, so there's no need to overdo it.
Or, you can go for healthier desserts. My mom always made fruit plates for us – strawberries, oranges, bananas, whatever was in season. And having it all cut up for us made all the difference. I love fruit, but I'll admit, I'll eat a lot more if someone pre-peels it for me.
So you don't have to avoid dessert. Just be smart about it! And these easy dessert recipes will give you a few tasty ideas for sweet treats.
Cookies
There's absolutely nothing like homemade cookies, fresh out of the oven. They can be as simple as drop chocolate chip cookies, or they can be cut out and decorated, but cookies are always good. Here are a few easy dessert recipes for cookies.
Sugar cookies are about as simple as easy dessert recipes come. Just a few simple ingredients and you've got an awesome treat!

For drop cookies, try this easy sugar cookie recipe. They're great drizzled with a bit of chocolate!
If you want to roll out the dough and make cut out cookies, this cut out sugar cookie recipe is perfect. The cookies keep their shape so well when they bake!

Sugar cookies look great decorated. This sugar cookie icing recipe will let you make professional looking cookies.
Gingerbread cookies are awesome around the holidays. And this gingerbread cookie recipe is great because it lets you cut out perfect little gingerbread men. And to decorate, this royal icing recipe is just what you need. It adds the perfect hint of sweetness.
Cakes
Cakes are actually surprisingly easy to make, and they're so great for special occasions. And I'm a big fan of homemade cakes. For me, they're better than anything you can get in a bakery or restaurant – my family knows that if I don't get a homemade cake for my birthday, things will get ugly!
Here are a few simple dessert recipes for cake that I like.
This is my favorite chocolate cake recipe. It's the perfect taste, texture and moistness for me. Even the batter is the best looking cake batter I've seen!
And it's just not cake without a little frosting. This chocolate frosting recipe is perfect for yellow cakes, chocolate cakes… or even just on its own!
Squares And Bar Cookies
Squares and bar cookies make a really nice, elegant looking desserts, and they're not that hard to make. With these easy dessert recipes, you just need to bake the bars and cut them up. I like to cut them into small servings, so that you get to enjoy the taste but don't feel too full. Besides, you can always go back for seconds.
These caramel pecan pie bars are completely decadent and delicious. They're always a huge hit! With homemade caramel and yummy toasted pecans, don't expect any leftovers.
These lemons bars are sweet but tangy, and perfect for a light, slightly fruity dessert.
This cranberry bars recipe is a great dessert recipe, and it's pretty wholesome. It would even make a decent breakfast!
Crisps And Cobblers
There are a lot of easy dessert recipes for crisps and cobblers. They make such delicious desserts that are great any day of the week, or even for a special occasion. I particularly love apple crisp — it's a perfect, warm dessert for a cool autumn day.
Apple crisp is fantastic. It's got a great, warm apple filling and a nice crunchy topping. Find out how to make your own delicious apple crisp recipe in this article on making easy apple crisp.
Candies
Of all the easy dessert recipes out there, I think candy recipes are my favorite. There's just something about candies that looks so fancy and elegant! Like truffles, so pretty, creamy and delicious. Yum!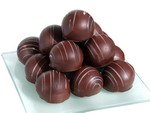 Frosting And Icing
Generally, I'm not a fan of too much frosting. I find that a lot of bakeries spread it on way too thick. But even I think that cake with a bit of frosting is so much better than without. Here are a few yummy frosting and icing recipes.
This chocolate frosting recipe is great for cakes.
If you want to decorate cut out cookies, try this sugar cookie icing recipe. It dries super beautifully, and you'll have wonderful looking cookies.
This royal icing recipe is perfect for flavorful cookies that need an extra hint of sweetness, like gingerbread. It dries really hard, and you can use it to build gingerbread houses.
Pies
There's something special about a delicious homemade pie. Maybe it just makes me think of pies cooling on window sills, but it feels like a delicious, traditional, and comforting dessert. You can't go wrong with a pie! And there are so many different kinds to choose from. Here's one of my favorite pie recipes.
This pumpkin pie recipe is one of my favorite recipes. It's also my husband's favorite, and I make it for him every year around his birthday.
I hope this collection of easy dessert recipes helps you put the perfect ending note to a wonderful dinner. Enjoy!