Home › How to cook frozen scallopsSkip Ahead to cook frozen scallops
The scallop is a delicacy clam that has a delicate flavor and pleasant aroma. It can be used as an ingredient for many dishes, from appetizers to main courses.If you have purchased frozen scallops and want to cook them, this article will give you detailed instructions, recipes and tips. When you work with frozen scallops, you should follow some rules to make sure they turn out juicy, delicious and safe to eat.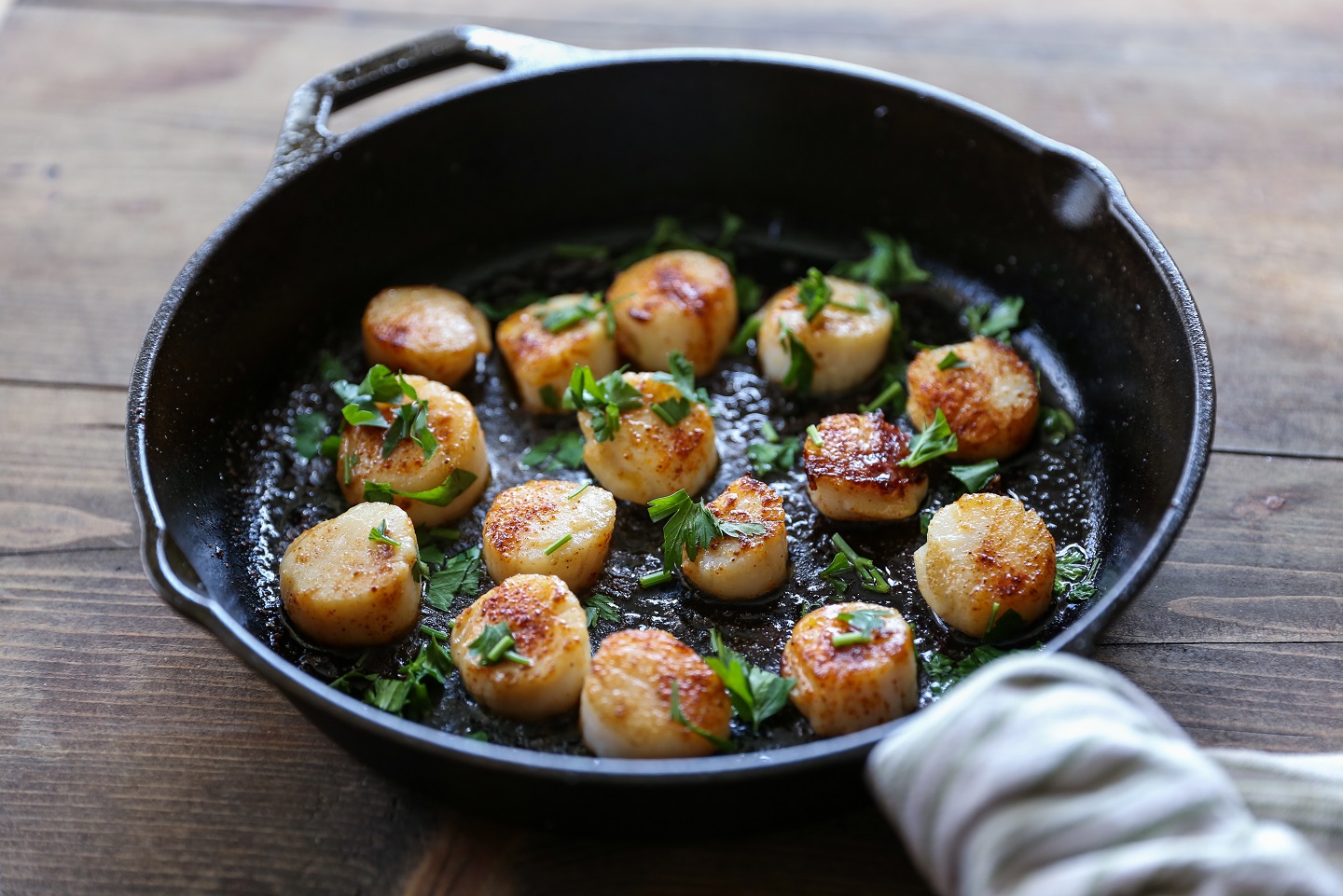 What does a scallop taste like?
Its dense white meat has a nutty, slightly sweet taste. And orange caviar has a more delicate consistency and a stronger "sea" flavor. It is more often separated from the meat and used to enhance the flavor of sauces. But you can cook with it. Try it how you like it best.
Below are detailed instructions and recommendations for cooking frozen scallops.
Defrosting Scallops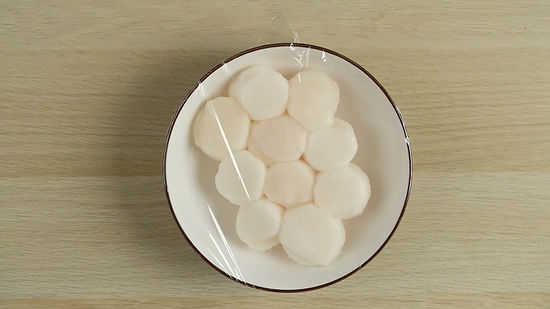 Before you start cooking the scallops, you need to defrost them. Take the scallops from the freezer and place them in the refrigerator overnight until they are completely thawed. This method is the safest and will not expose the scallops to temperature shock.
If you don't have that much time to defrost the scallops in the refrigerator, you can use the quick defrost method of immersion. Fill a large bowl with cold water and place the scallops inside for 10-15 minutes. Then replace the water with fresh water and repeat the process until the scallops are completely defrosted.
Never use hot water to thaw the scallops, as the temperature will suddenly rise and this may damage the scallop flesh.
Take the scallops out of the package, dry them with a paper towel or kitchen paper and cook them according to the recipe.
Experienced cooks place scallop fillets in cold water, half diluted with milk. The main thing here is to remove the scallops immediately after defrosting, otherwise they will begin to lose their flavor.
These are the basic steps to follow when defrosting scallops. It is important to defrost and cook them correctly to preserve their quality and safety.
Prepare the scallops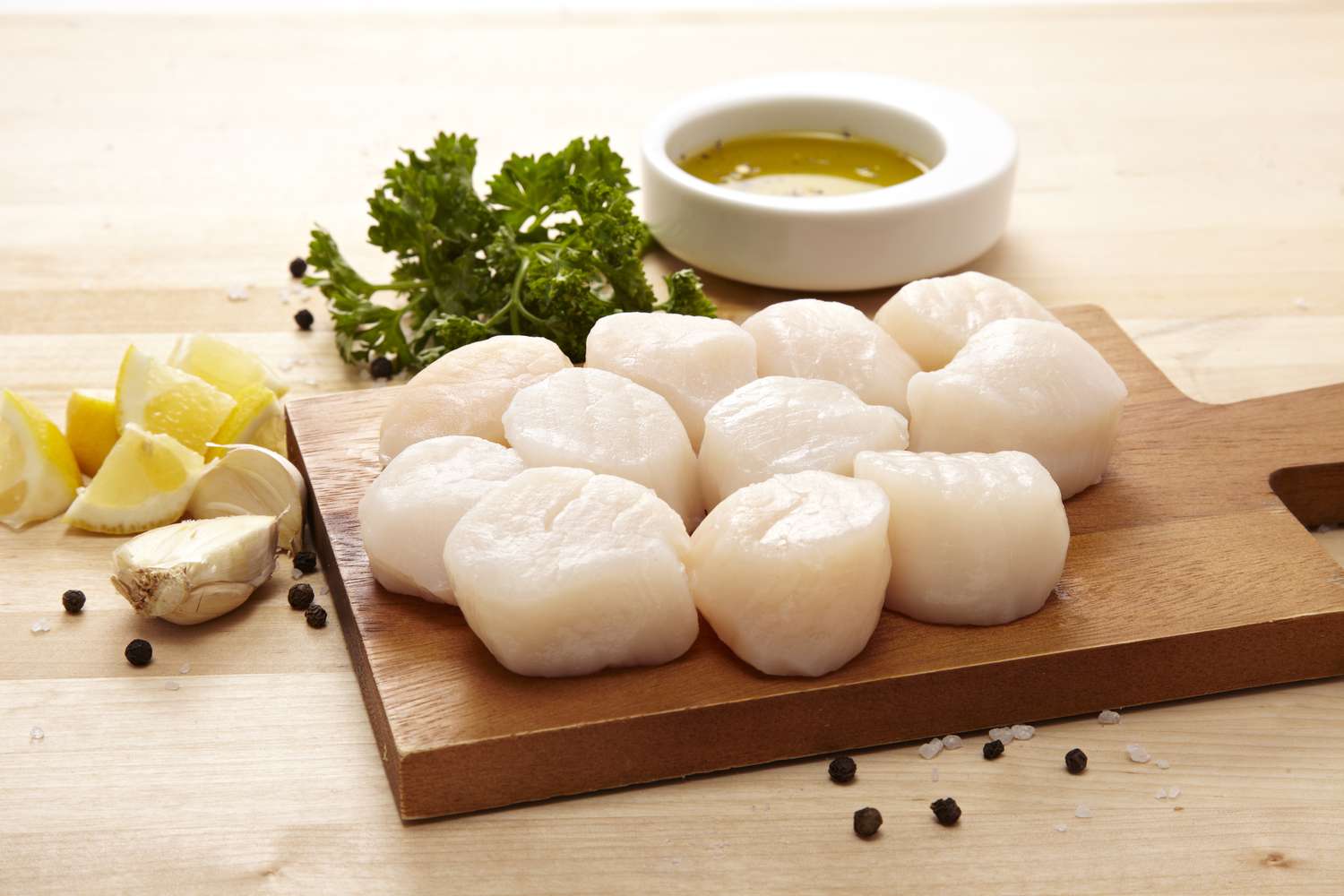 Before you start cooking scallops, you need to clean them. First, you need to remove the scallop shell. To do this, use a sharp knife and gently run it along the shell. Then remove the contents of the shell and rinse the scallop under cold water.
Remove the yellow sac. Scallops have a yellow sac that is near the fleshy part of the scallop. This sac should be removed because it can ruin the taste of the dish. You can do this with a sharp knife and carefully cut the fleshy part of the scallop, gently take out the yellow sack and throw it away.
Scallops can be cooked in many different ways, depending on preference. They can be boiled, fried or baked. One easy way to cook scallops is to roast them.
How to cook? Scallops are boiled, fried, stewed, and served raw.
Raw Scallops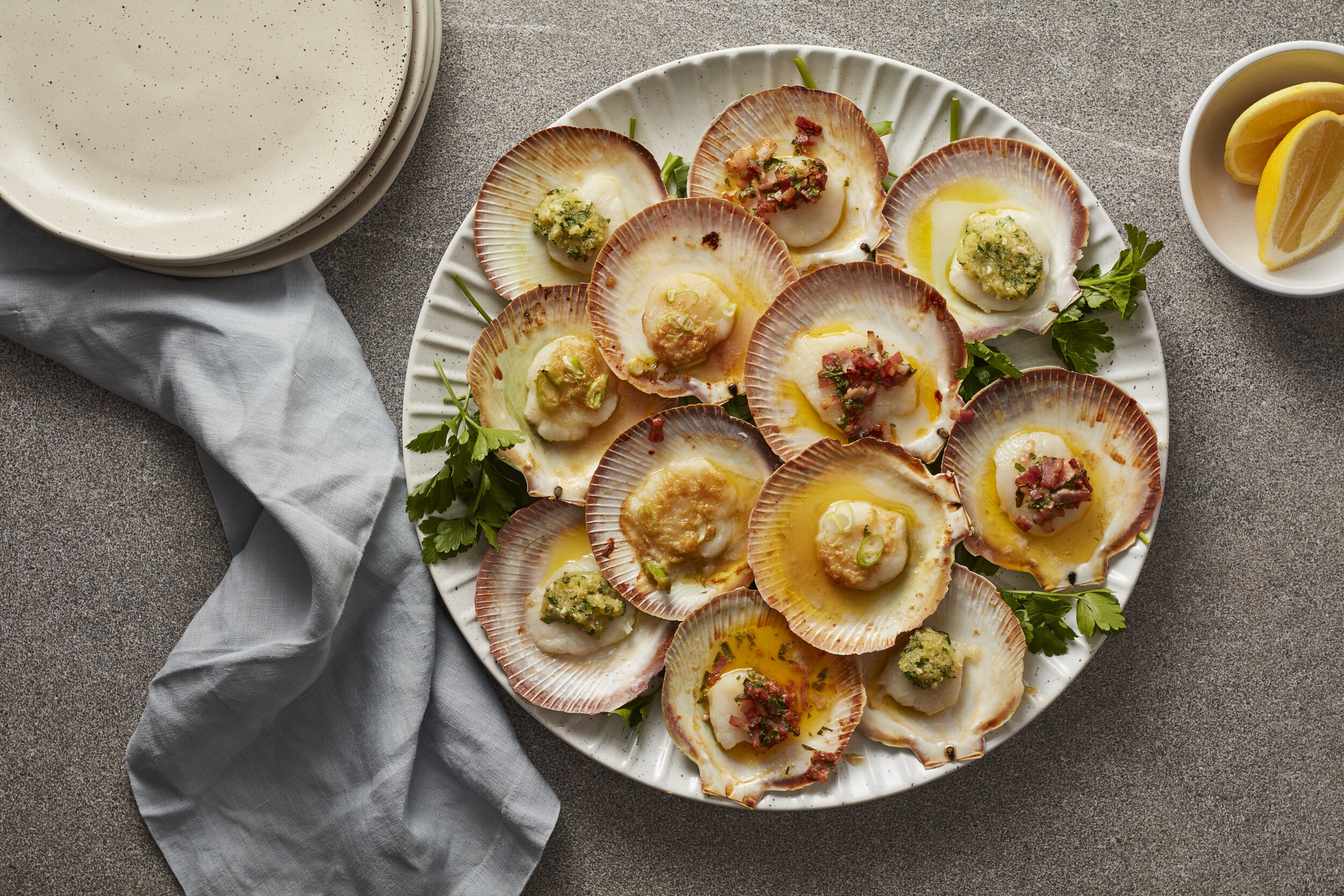 Serving raw scallops requires care and attention to detail to preserve their natural flavor and texture. Quality and properly defrosted scallops are also delicious raw. Sometimes they are sliced in thin layers, well salted, peppered, and liberally drizzled with olive oil, half and half with lemon juice.
Ingredients:
60 g scallops
25g mixed salad leaves
For the mango sauce:
110 g lemon pulp
1 kg mango puree
170 g granulated sugar
For the marinade:
15 ml of balsamic vinegar
20 ml extra virgin olive oil
1 g salt
0.5 g ground white pepper
5 g lemon juice
20 g mango sauce
Greens:
1 sprig of green dill
1 twig of parsley
1 sprig of red basil
1 sprig of fresh thyme
1 sprig of chives
1 teaspoon rosemary leaves
Prepare the mango sauce
Bring mango puree to a boil, add squeezed lemon juice, granulated sugar, bring to a boil again, strain.
Prepare the marinade
Mix olive oil, balsamic vinegar and lemon juice, add salt, ground white pepper (to taste). Slice the scallops into thin plates and place in the marinade for at least 1 hour.
Serve
Then place the scallop plates on a plate and top with the salad leaves dressed with the marinade. Pour the whole thing over the mango sauce and garnish with herbs.
Fried scallops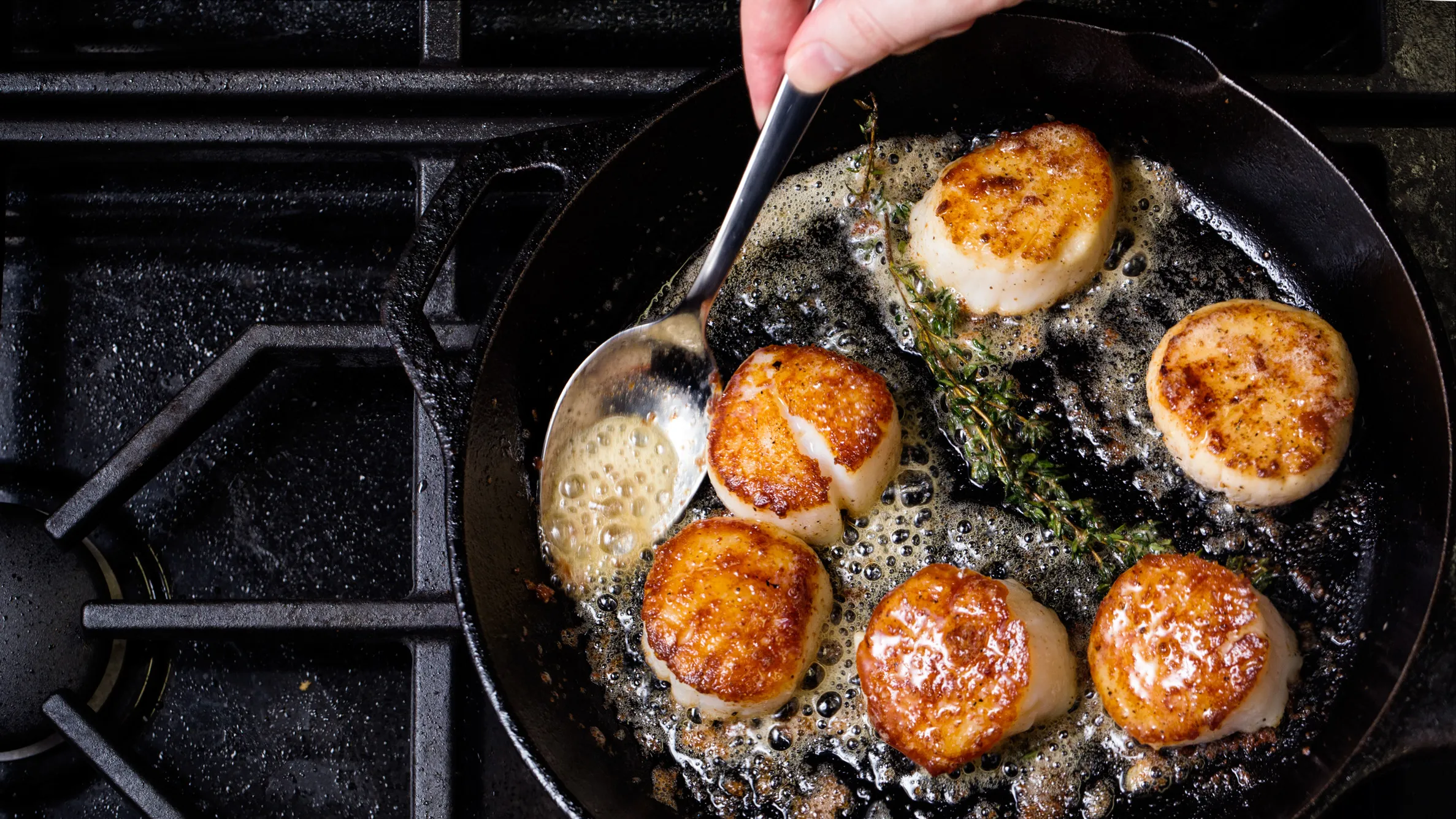 Ingredients:
Scallops – 12 pieces
Butter – 100 g
Garlic – 2 cloves
Chopped onion – 1 item
Salt
Pepper
Lemon juice
How to cook scallops
Let's cook the dish. Everything is very simple!
Take ready defrosted and peeled scallops.
Heat a frying pan over medium heat. Put the butter in the frying pan.
Add the chopped garlic and onions to the skillet and fry them along with the butter until the onions are soft and translucent.
Add the scallops to the pan and fry over medium heat for 3 to 5 minutes, turning constantly to ensure they are well cooked on all sides.
1 minute before they're done, add a little lemon juice and stir all the ingredients in the pan.
Add a pinch of salt and pepper to taste.
Arrange the cooked scallops on a platter and serve hot.
Baked scallops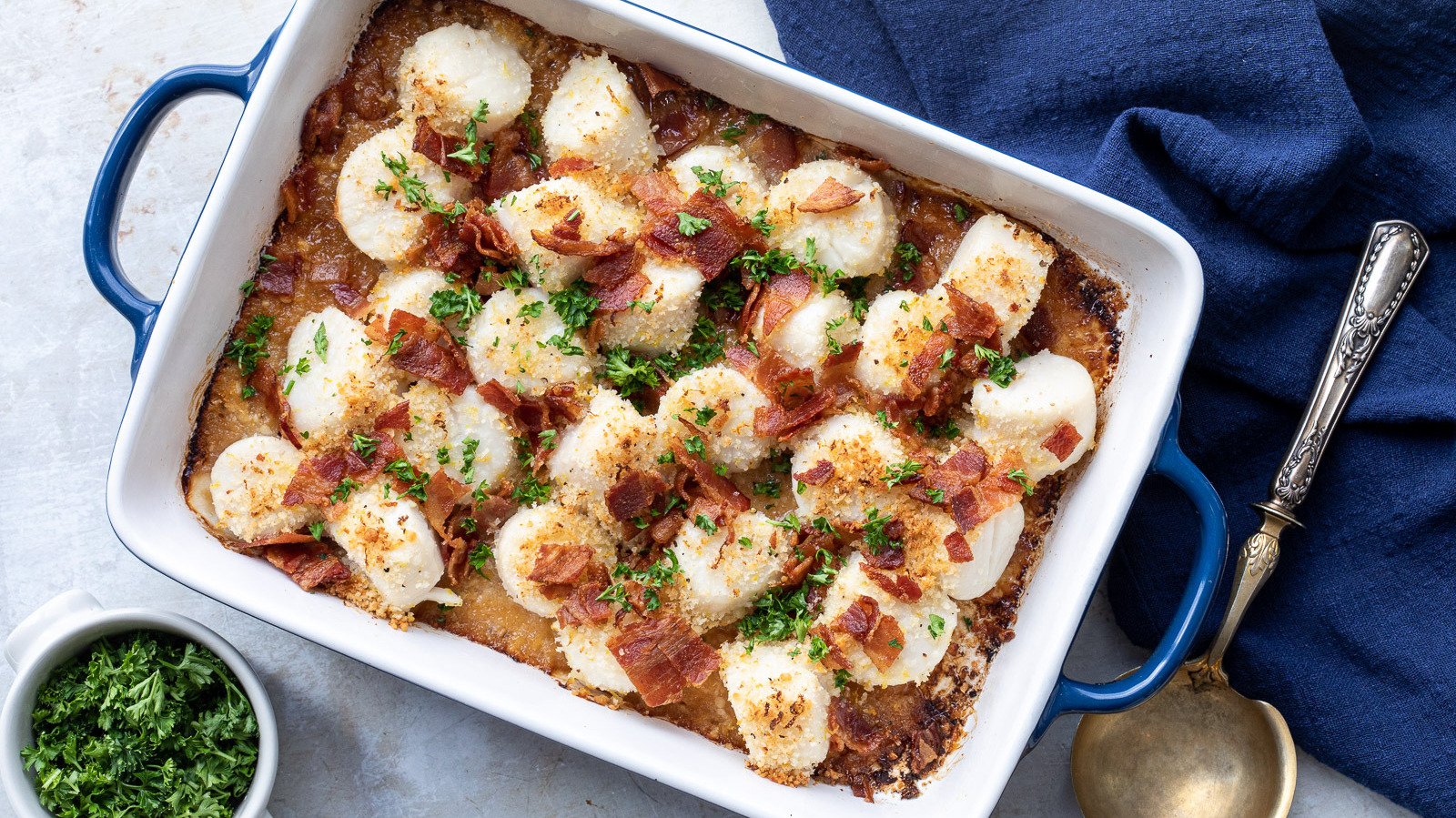 Ingredients:
12 scallops
2 tablespoons melted butter
2 garlic cloves, minced
1 lemon juice
2 tablespoons fresh parsley, finely chopped
Salt and freshly ground black pepper to taste
1/4 teaspoon red pepper (optional, to spice things up)
Preparing the dressing
In a bowl, combine melted butter, minced garlic, lemon juice, parsley and red pepper (if using). Season with salt and pepper to taste. Mix well so that all ingredients come together.
Baking the scallops
Preheat the oven to 200 degrees Celsius. Place the scallops evenly on a baking tray, face up. Using a brush or spoon, spread the dressing on each scallop, coating them on top. Place the tray with the scallops in the preheated oven and bake for about 10-12 minutes, or until the scallops are tender and translucent.
Serving the dish
Transfer the baked scallops to a platter. Sprinkle with fresh parsley for decoration. Serve the baked scallops immediately while they are still hot.
Baked scallops are great with mashed potatoes, a vegetable side dish or a fresh salad. Enjoy this gourmet dish!
Bottom line
Cooking scallops is a very simple and quick process. You only need a few simple ingredients and the snack is ready! I hope that my article was useful and that you pleased yourself and your loved ones with this incredible dish.